[tm_pb_section admin_label="section"][tm_pb_row admin_label="row"][tm_pb_column type="1_3″][tm_pb_text admin_label="Text" text_orientation="center" use_border_color="off" border_color="#ffffff" border_style="solid"]
There are jobs–then there are careers. Some companies have perks, we have the Love Hope Strength experience. The opportunity to do the kind of work that saves lives is truly something meaningful. You can expect to be surrounded by smart, ambitious, motivated, passionate people and the opportunity to challenge yourself and learn new skills.
Sound rad? Come Join us.
[/tm_pb_text][/tm_pb_column][tm_pb_column type="2_3″][tm_pb_accordion admin_label="Accordion" use_border_color="off" border_color="#ffffff" border_style="solid"]
[tm_pb_accordion_item title="Volunteer Coordinator"]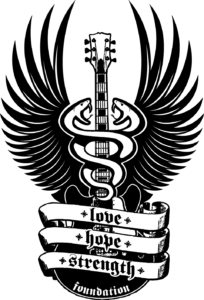 At the Love Hope Strength Foundation, our mission is to save lives, one concert at a time. We believe that all people deserve quality cancer care, a marrow donor, if needed and most importantly, HOPE.
Founded by cancer survivors, LHS leverages the power of music to expand the marrow registry through our "Get On The List" campaign registering music lovers all across the nation to become marrow donors helping to save lives of those suffering from blood borne illness such as Leukemia, Lymphoma or Sickle Cell Anemia.
At Love Hope Strength, we believe in offering real hope to people currently living with cancer!
APPLICANTS MUST SUBMIT
Resume, via online submission portal by clicking here.
POSITION SUMMARY
Starts at 40 Hours/Week and includes at least 5 days per week and occasional evenings and weekends to facilitate events and service projects.
The Volunteer Coordinator engages the community to support the Love Hope Strength mission by recruiting individuals and groups of volunteers, resourcing and scheduling swab events, and maintaining volunteer relationships of 2000+ dedicated volunteers and their hours of service per year to meet the needs of marrow registrant obligations.
ESSENTIAL FUNCTIONS
Manage multiple volunteer recruitment, data, and management sources

Recruit, interview, and connect volunteers for optimal growth in national regions

Organize, announce, and host a monthly Volunteer Phone Conference.

Coordinate and supervise volunteers as individuals and in groups

Provide excellent group facilitation and leadership

Actively engage volunteers throughout the year and demonstrate appreciation

Create Volunteer appreciation/informational posts for social media/web presence

Ability to multitask, be detailed oriented and be flexible with changing schedules/circumstances

Maintain confidentiality of internal & external assets, information and data

Maintain event supply inventory, prepare volunteer kits, ship as needed

Identify program needs and implement appropriate practices, training and development

Maintain documentation and data collection for annual reports and grants

Lead swab events throughout Colorado and the U.S. as needed

Coordination with Executive Director, and Managing Director on all fundraising events, programs and additional tasks

Coordination with National Tour Director on nationwide event and volunteer needs

Coordination with Director of Artist & Venue relations, assisting with:

event advances

tour sheet data entry

building one-off & CO events monthly calendars

social media promotion

festival/event research and analysis

partner thank you's and follow ups

other duties as needed
ESSENTIAL QUALIFICATIONS
Proficient use of Microsoft Office programs, Google Suite including but not limited to Gmail, Calendar, Docs, and Sheets

Ability to engage with and appreciate diverse personalities

Excellent organizational and planning skills

Excellent group facilitation and leadership skills

Awareness of/and commitment to personal and professional development

Works independently and willing to be part of a team

Team player with strong interpersonal skills

Willing to travel

Exceptional communication skills, patience and a positive attitude
EDUCATION AND EXPERIENCE
Experience serving as a non-profit volunteer coordinator preferred

Experience leading and facilitating a group project or event

At least 5 years of prior office administrative duties, non-profit history a plus

High school or equivalent
[/tm_pb_accordion_item]
[/tm_pb_accordion][/tm_pb_column][/tm_pb_row][/tm_pb_section]