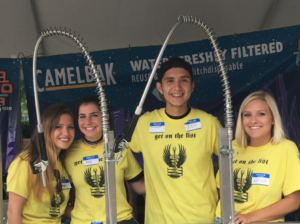 2017 Love Hope Strength Foundation Ambassador Program at Lollapalooza
Festival Dates: 8/3/17 to 8/6/17
Lollapalooza is committed to supporting organizations dedicated to improving the quality of life for generations to come. For the third year at Lollapalooza, the Love Hope Strength Foundation will be at the Festival and we are recruiting Ambassadors to volunteer on our behalf to promote our mission of signing up individuals to become potential marrow donors through our GET ON THE LIST campaign. The Lollapalooza Festival is ranked in the top five in the country for the number of potentially lifesaving marrow matches!
Get involved with us at Lollapalooza and help promote our GET ON THE LIST campaign by spending about 4 hours interacting with fans throughout the Festival grounds on various teams focused on patron services and eco-initiatives: help fill water bottles, provide answers to questions, motivate environmentally friendly acts through the Rock & Recycle Program, and more. The LHSF Ambassador teams enhance the Festival experience for all fans while supporting us by helping promote our mission to save lives one concert at a time.
Full information on the LHSF Ambassador program and the application will be posted here in early July. Check back then to read about the program and sign up, or if you'd like to be notified when the application is ready, please provide your name and email address below.
Thanks for your interest! Questions can be emailed to lovehopestrength@lollapalooza.com.
Sign up here to be notified when the 2017 LHSF Ambassador application is available: