Since 2008 Love Hope Strength Foundation has been hosting marrow donor drives at concerts and festivals across the globe via our Get on the List (GOTL) campaign. This program encourages people to sign up to the International Bone Marrow Registry via a simple cheek swab, taking our concept of, "Saving Lives, One Concert At a Time," to a whole new level.
Working with our amazing programmatic partners at DKMS and thousands of incredible volunteers nationwide, we have been able to add over 200,000 music fans to the registry and make over 2,500 potentially lifesaving matches, giving hope to those who would otherwise be denied the chance of life, as they navigate through blood cancers like leukemia, lymphoma and other blood borne diseases.
It's a great time to be a part of the Love Hope Strength Foundation movement!
A SIMPLE STEP TO GET ON THE LIST
Register with DKMS and, if you are eligible, you will be sent a simple swab test in the post to complete and return. You could then be on the world-wide donor register and a potential match to give a second chance of life for someone with a blood cancer.
DONATION PROCESS
Joining is a commitment to SAVE A LIFE. Be ready if called AND WILLING to donate either of these ways:
PERIPHERAL BLOOD STEM CELL DONATION
75% of cases donate peripherally.
A 4 to 8 hour non-surgical, outpatient procedure similar to donating platelets. Blood is drawn through one arm and passed through a machine that filters out the blood stem cells, and returned through the other arm. Prior to the donation, injections are given to boost stem cell production.
BONE MARROW DONATION
25% of cases donate bone marrow, the majority of these are cases of children 10 and younger needing a transplant!
A 1 to 2 hour outpatient surgical procedure, performed under general anesthesia. Marrow cells are collected from the back of the pelvic bone using a syringe.
SAVING LIVES, ONE CONCERT AT A TIME!
Much of Love Hope Strength's focus is signing up people to Get On The List at concerts and festivals.
WHY FOCUS ON THESE KIND OF EVENTS?
Research shows that younger donors provide the greatest chance for transplant success which is why people between the ages of 18-44 are called to donate more than 90% of the time.
The patrons attending these events tend to be the ideal age-demographic for being potential marrow donors. So Love Hope Strength, the world's leading Rock and Roll Cancer Foundation, partners with artists and venues to reach out to this ideal audience to promote the Get On The List mission.
WHY GET ON THE LIST?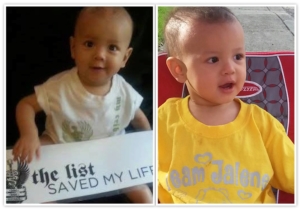 Every 3 minutes in the U.S., someone is diagnosed with a blood borne cancer. For many patients, a marrow transplant or stem cell donation is the only chance for a cure.
30% of patients can find a matching donor in their families, but 70%—nearly 14,000 each year—must rely on a benevolent stranger to step up and donate.
6 out of 10 patients are unable to find a compatible donor. The odds are even lower for those with diverse ancestry.
By being a part of the international marrow registry, you have the potential to SAVE A LIFE. 1 in 540 participants go on to match and donate. The more people that are on the registry, the better the chances of finding matches!