At LHS we deliver hand sewn pillowcases and small knit squares called 'comfort squares' in a  welcome bag with a card inside telling a bit about LHS, letting patients on the BMT and oncology floors know they are not alone.
The pillowcase material typically comes from volunteers who either use existing scraps or purchase material. The pillowcase pattern we use can be found at the following link: Pillow Case Pattern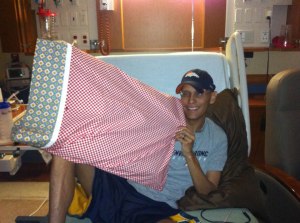 Then, on the holidays, we deliver 'Tyler's Hope' bags. We ask people to put together  5 gift bags for $5.00 each containing items from the dollar bins at Target or something similar, totaling $25.00 per person. They each contain a business card featuring a young man named Tyler who passed after a year in the hospital battling aplastic anemia. It was his wish that everyone, including adults, got something during the holidays while going through transplant.We deliver these bags to the BMT floors on the 4th of July, Halloween and Christmas. You can be as creative as you like with the gifts. Handmade things are always a big hit, as are window clings, things to hang from IV pools, chapstick, small soft kleenex packages, etc.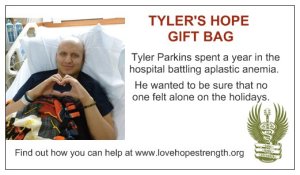 For more information on how to get involved at a hospital near you email [email protected].