This year Love Hope Strength (LHS) has been running a campaign around World Cancer Day to help raise funds to support our partners and the work we do to help advance cancer prevention, early detection, diagnosis, treatment and care. The funds raised through this prize draw will support: the Union for International Cancer Control, the World Cancer Research Fund, the Children's Cancer Unit in the Muhimbili National Hospital, Tanzania, USA and UK cancer care grants & 'Get On The List'.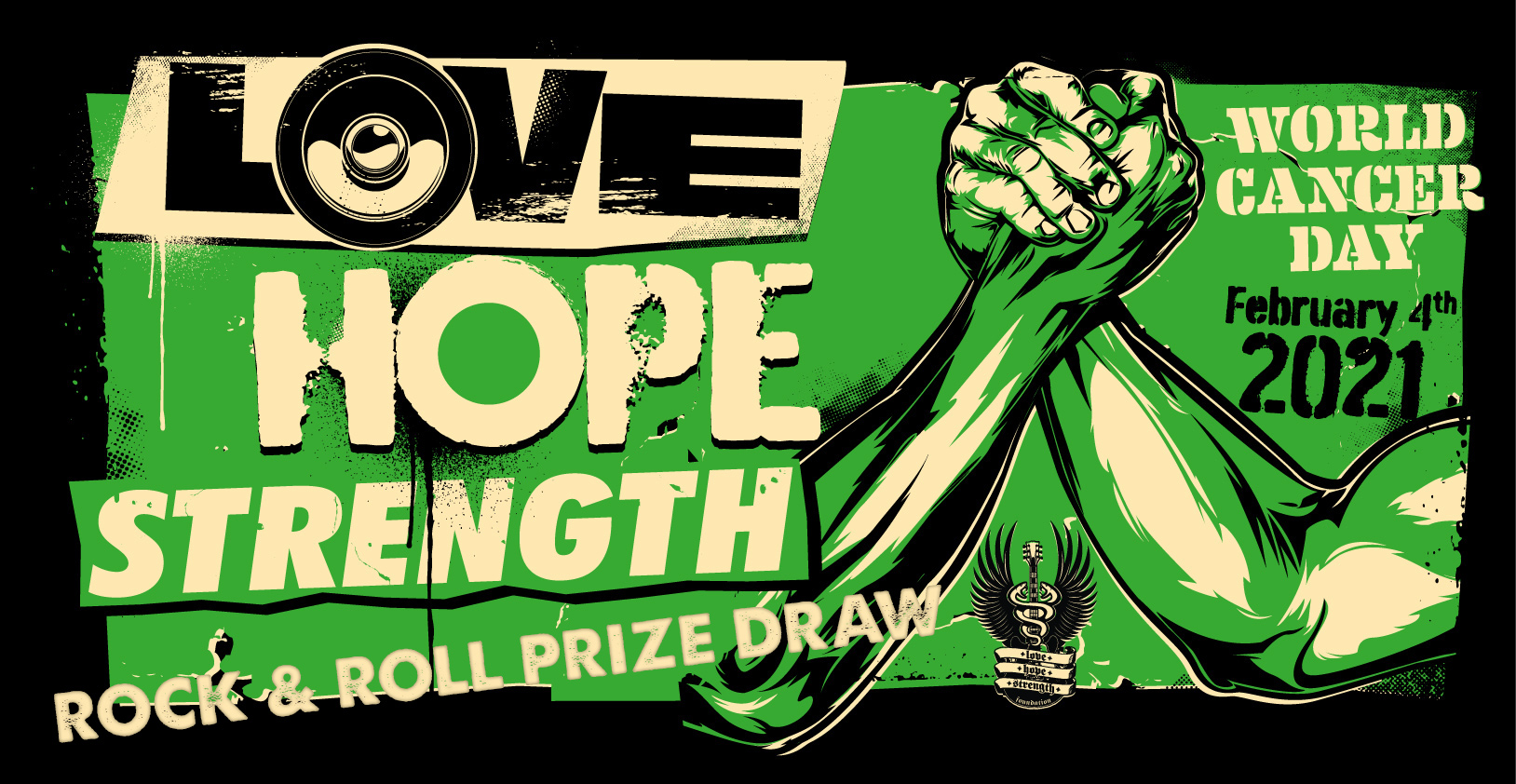 You're now invited to donate any amount – we respectfully ask that you donate a minimum of $10 / £7 – to take part in a special Rock and Roll prize draw. Your donation will help save lives and give hope to people with cancer.
Take part in the prize draw now: www.justgiving.com/campaign/lhs2021rockandrollprizedraw
Everyone's a winner! All prize draw entrants will win something. If you're not one of the four lucky main winners, you will receive a Love Hope Strength branded wristband or an LHS branded neck warmer or LHS branded set of pens. The top four prizes are:
1. A signed 'Man in the Camo Jacket' guitar – personally signed by Mike Peters and others involved in this award winning documentary (see maninthecamojacket.com)
2. Specially signed memorabilia from progressive rock band 'Yes'
3. A Love Hope Strength Skatedeck
4. An expanded edition of the hardcover book Billy F Gibbons: Rock + Roll Gearhead personally signed by Billy F Gibbons.
IMPORTANT INFORMATION
If you are a UK tax payer, please note that you are not permitted to Gift Aid your donation, as you will be receiving something after you have donated.
You will receive an e-receipt from JustGiving following completion of your donation. Please forward your e-receipt to [email protected] along with your name and postal address. Your contact details will not be shared with any other organisation. Your contact details will not be used to contact you for any other purpose without your consent to do so.
The winners of the top four prizes will be announced on 1st March. All donors' names will be put into a hat to be drawn at random on that day, and you will receive your prize within 20 days, unless informed otherwise.
Thanks to the generous support of the Beauchamp Family Foundation, your donation will be matched, so if you donate $20 or £20, your donation will be become $40 or £40, with all of that donation helping to make real change to people affected by cancer.
Thank you so much for your wonderful support!
Take part in the prize draw now: www.justgiving.com/campaign/lhs2021rockandrollprizedraw