"I felt like it was such a privilege to be matched with someone, to possibly help save a life." ~Wes
In June of 2012 my wife surprised me by taking me to an Alan Jackson at Red Rocks amphitheater for our 5th anniversary. As we entered the venue we were approached by a young woman from Love Hope Strength who asked us if we were registered as bone marrow donors, and if not, would be be willing to register right then. My wife and I looked at each other and with a quick nod to one another we decided to go ahead.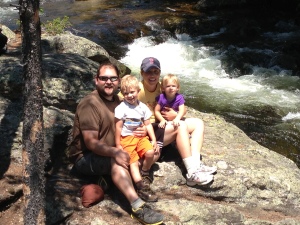 Unspoken in that nod was the knowledge that her father had died of Multiple Myeloma just a few years previous, and had been a recipient of bone marrow stem cells earlier in his treatments, which prolonged his life, giving him at least four good years of health, allowing him to be around for the birth of our son. It was such a gift! If we could do that for someone else, we wanted to!
Less than a year later I received an email from Love Hope Strength's partners at Delete Blood Cancer (DKMS) letting me know that I was a match! It was around 11:00pm when I got the email and it was so unexpected. It was surreal. I had almost forgotten about registering, and then I wanted to make sure that it was actually Delete Blood Cancer contacting me (I'd received so many spam scams before I wanted to be careful). I called them the very next morning and it was confirmed that I was a match. They wanted to know if I was willing to move forward with testing, to make sure I was the best match for the patient, and if I would be willing to be a donor. My instant response was "YES". I was so honored. I felt like it was such a privilege to be matched with someone, to possibly help save a life, and all I had to be was, me, and be willing to go through the process.
Once I agreed to the process, they sent me to a hospital to get blood work done, to test for infectious disease, and to make sure my cells would be the best match to the recipient's. Everyone I met was so wonderful! They were kind, gracious, and told me how grateful they were that I was going through this process. I waited for two weeks, found out that I was the best match for the patient and then learned that I would be giving Peripheral Blood Stem Cells instead of giving direct bone marrow. I began taking Neupogen (filgrastim) injections, for five days, to mass produce stem cells and flood my blood stream in preparation for the collection date.
It was uncomfortable. The injections burned, I got major headaches, bone and muscle pain, which made it hard to sleep at night, and I felt nauseous sometimes, making my appetite a decrease a bit. I even had some incontinence issues accompanied by discomfort in my abdomin. Over all though, it was worth it! The whole time I thought to myself, "I'm experiencing, for a very short amount of time, the types of things that cancer patients experience for months and years." In a small way, I am taking the pain of someone else upon myself to give them life. So cool, no matter what discomfort or pain I need to go through.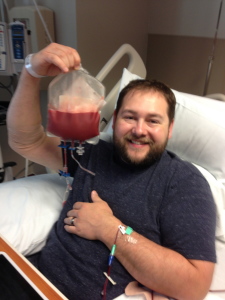 The day of my donation, they sent a car to pick me up and take me to the hospital. I spent six plus hours hooked up to the machine that passed my blood from one arm, through the centrifuge (collecting the stem cells), then back into my other arm. Modern medical technology is amazing! Again, everyone at the hospital was so appreciative of what I was doing, and I even got to meet two stem cell recipients, who thanked me for what I was doing. For all of us, it helped bring things full circle, since I wasn't allowed to know who my recipient was, and they weren't allowed yet to know who their donors were. What a beautiful gift. Another really fun part, was getting to order whatever I wanted from the kitchen while I was there. 🙂
Less than three months after my donation I received a call to let me know that my recipient had accepted my stem cells and was being released from the hospital to go home! I was so thankful! How stinking cool!!!! What a privilege it is to be part of this persons life, return to health and hopefully sustained health and well-being. My hope is that one day we will be able to talk to each other, or meet one another and talk about this process and what it has been like for us.
Having been through this process, and knowing from personal experience what a difference it makes in someone's life, I would definitely do it again if called upon. I would highly encourage people to get registered, and to be open to the possibility of donating. It's a highly rewarding experience, one that could change a person's life forever, a chance to give of yourself in a way that few people have the honor and privilege of doing, to save a life.
Wes