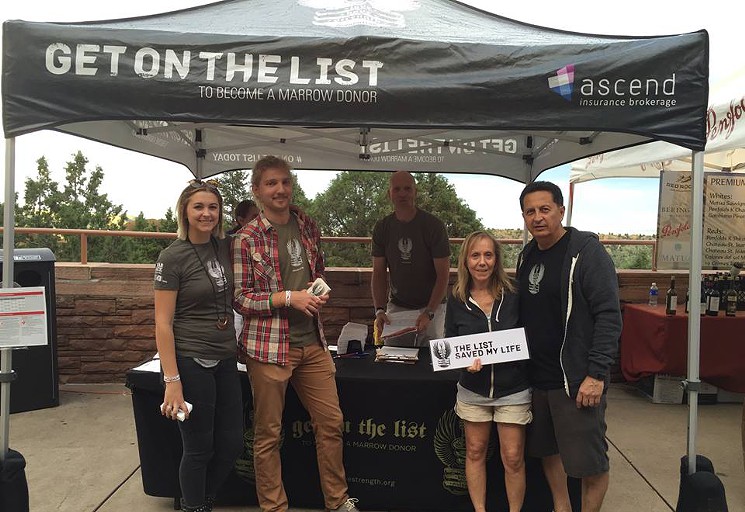 – by Isa Jones
Sep 9, 2015 – "Just scrub the insides of your cheeks like you're brushing your teeth for a good twenty seconds," said a smiling volunteer, handing out cotton swabs to attendees of the recent Underground Music Showcase.
That volunteer was working for the Love, Hope, Strength Foundation, a nonprofit that works to get people on the international bone-marrow donation registry. Representatives of the organization were at the UMS all weekend, repeating those same instructions to an ongoing stream of festival-goers, many of whom scraped their cheeks, signed forms and added their names to the list.
Love, Hope, Strength was co-founded in 2007 by Mike Peters, lead singer for the Welsh alt-rock band the Alarm. A two-time cancer survivor, Peters knows well the importance of finding donors for those suffering from leukemia, lymphoma, sickle cell anemia and various immune-system disorders. The charity, which is headquartered in Denver, has a single goal: to save lives by getting healthy people on the bone-marrow donation registry. Matches are extremely rare, so it's important to have a large pool of donors for those in need of transplants. The foundation's "Get on the List" campaign engages concert and festival crowds across the globe to find potential donors; recognized as "the world's leading rock-and-roll cancer foundation," according to its website (the group's logo is even designed like a rocker's tattoo, complete with a guitar in place of the staff on the caduceus symbol), LHS has gone to extraordinary lengths to grow the registry, even hosting a concert at a Mt. Everest base camp.
The process to get on the registry is simple and quick. Interested individuals just need to sign a couple of forms and swab the inside of their cheeks. The collected cells are sent off to a lab; if approved, the potential donor is put on the registry for life.
– Read the full article here at WestWord.com