Rock and Roll campaign 'Get On The List' to save lives on Capitol Hill!
Love Hope Strength Foundation (in partnership with DKMS – We Delete Blood Cancer), are inviting US Senators, Congressmen, staff, government employees, and visitors to Capitol Hill to register and become potential life savers at their first ever cheek swab donor drive, in the Capitol Building on Tuesday, September 6th between 10 am and 4 pm in room HVC-200 in the Capitol Visitor Center (CVC).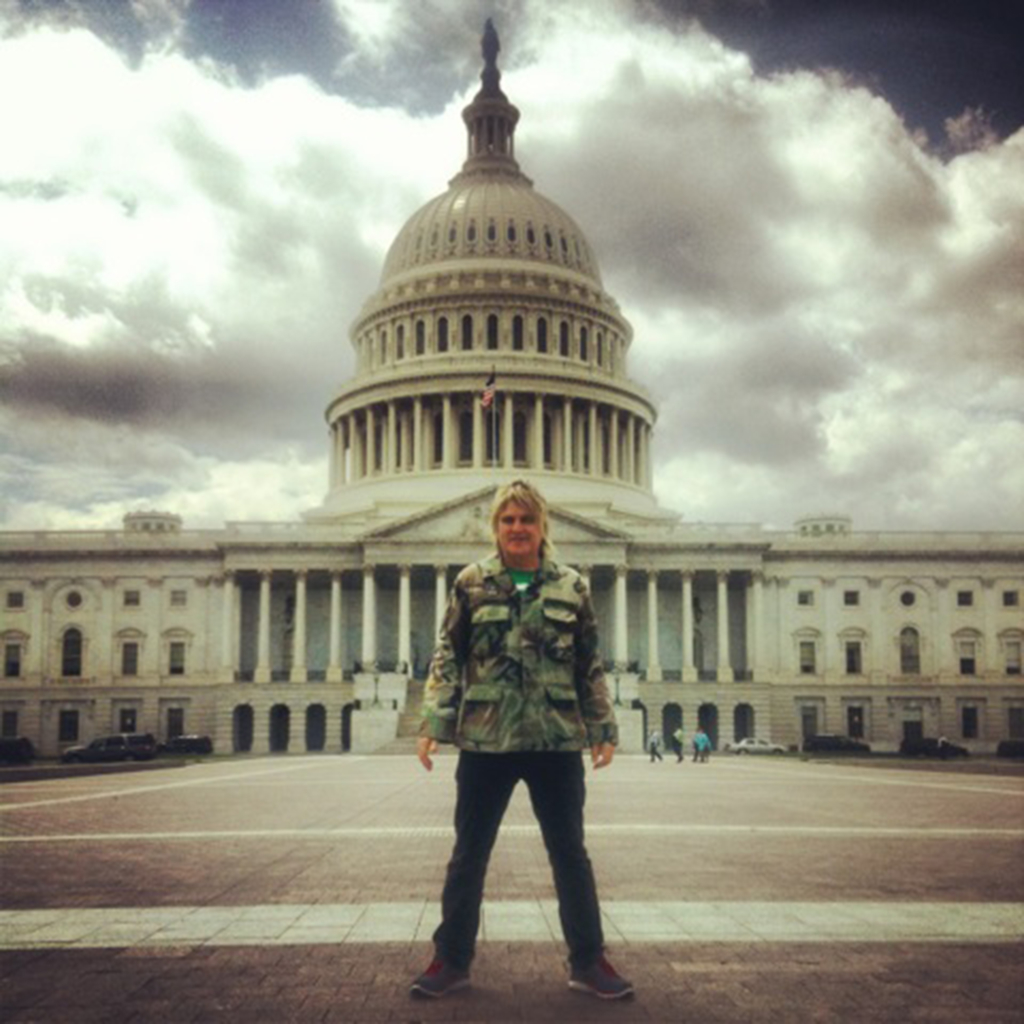 Photo: LHS Co-Founder Mike Peters outside the Capitol Building
The Get On The List program registers people to the international donor registry by hosting cheek swab drives at concerts and music festivals with the support of many world renowned artists including Robert Plant, Kenny Chesney, Enrique Iglesias, Linkin Park, Andrew McMahon in the Wilderness and at world class music festivals such as Lollapalooza, Austin City Limits and England's Isle Of Wight Festival.
Since 2008, LHSF has added over 150,000 music fans to the international bone marrow registry resulting in 3,000+ potentially life-saving matches.
National figures show that half the people in the USA who need an unrelated lifesaving donor never find a perfect match, and the partnership between LHSF and DKMS aims to dramatically improve that figure.
Anyone between the ages of 18 and 55, and in good general health, can sign up by filling out a consent form and giving a tissue sample through a simple cotton cheek swab. The initial process only takes a few minutes to complete.
LHSF has registered potential donors this summer at the Goo Goo Dolls, Flogging Molly and Frank Turner nationwide tours. By working together, the partnership between artist, event, LHSF and DKMS will significantly grow the number of potential donors in the USA and improve the chances of survival for blood cancer and blood disorder patients worldwide.
House Majority Leader Kevin McCarthy will serve as an Honorary Co-Host for the event alongside House Democratic Whip Steny Hoyer, in the Capitol Building's Capitol Visitor Center (HVC-200) ‪from 10 AM-4 PM on September 6, 2016 LHSF and DKMS will host a donor registration event aimed at Members of Congress, their staff, and visitors to Capitol Hill in the hope that greater awareness can be spread throughout the nation.
LHS and DKMS are hoping that many Members of Congress who have been personally and publicly supportive of other cancer awareness campaigns in the past, will come forward to register and help send a powerful message to all people in the USA to become potential marrow donors and thereby give blood cancer patients and those suffering from blood disorders in need of a marrow transplant a second chance at life.
LHSF was founded in both the USA and UK by Mike Peters (three-time cancer survivor), who is also lead singer with internationally renowned British rock band, The Alarm, and James Chippendale, a Dallas, Texas music executive and Leukemia survivor whose life was saved by a matching DKMS donor from Germany.
Mike Peters, Leukemia survivor said, "We are so pleased at the success of the Get On The List Campaign, and are also delighted that the partnership with DKMS is raising awareness that being a donor and making a donation in this day and age is almost as simple as giving blood. People are realizing that one day it could be someone that they know who needs a marrow donor, and the more people that are on the list, the better everyone's chances of finding an unrelated donor are."
House Majority Leader Kevin McCarthy, who is personally serving as an Honorary Co-Host of the event, said "LHSF's work has helped to save lives. I applaud their efforts and look forward to seeing them on Capitol Hill." House Democratic Whip Steny Hoyer, said "I am thrilled to be an Honorary Co-Host of this event, and I hope that my colleagues and their staffs will participate in this important life-saving opportunity."
Natalie James, Executive Director of LHSF says 'Marrow donations provide lifesaving treatments for patients in need by replacing their unhealthy cells with healthy blood-forming cells. Around 70 percent of patients needing a transplant rely on the bone marrow registry to find an unrelated donor. Come to the Capitol's the Capitol Visitor Center HVC-200 ‪from 10 AM-4 PM on September 6, 2016, and let's save lives together."
"The DKMS mission is to help all patients who have blood cancer or blood disorders find their lifesaving match," said DKMS US CEO Carina Ortel. "Love, Hope Strength Foundation has been instrumental in registering so many people. We encourage staffers and members of Congress from both sides of the aisle to come out on Sept. 6 and join the fight. Cancer can affect everyone, and everyday people can step up, become heroes and save lives.."
In 2013, LHSF partnered with DKMS We Delete Blood Cancer and hosted the first ever cheek swab drive in the UK's House of Commons registering over 100 Members of Parliament including John Glen MP of Wiltshire who was matched within months and went on to give the lifeblood needed to help save someone's life.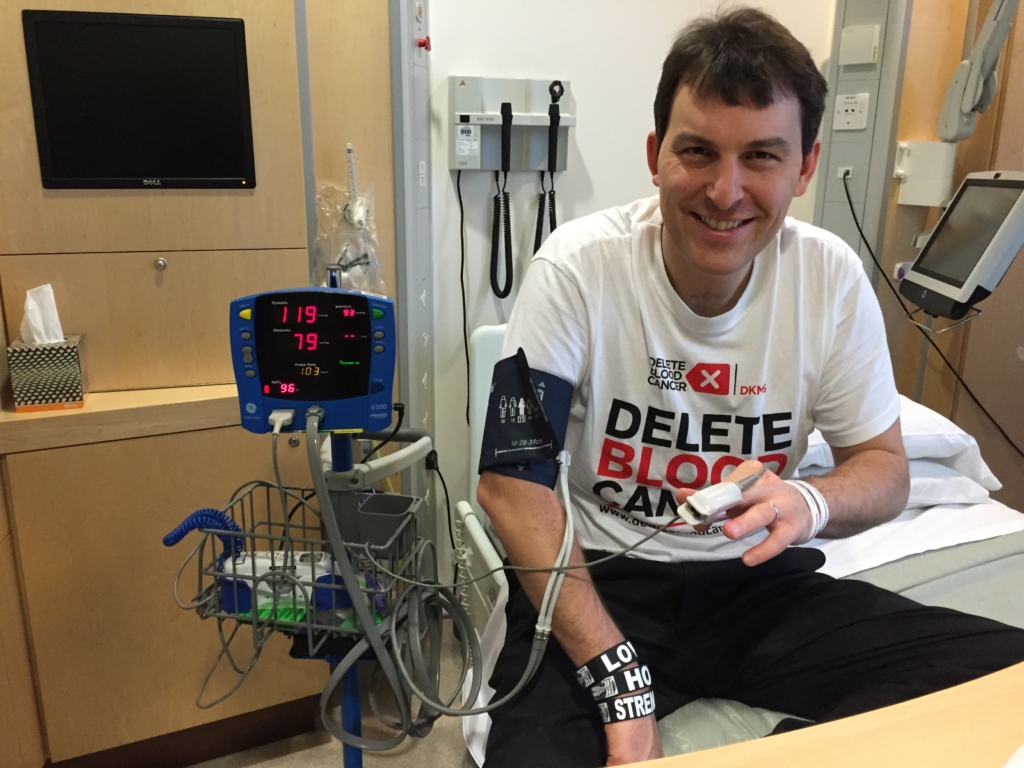 Photo: British Mp John Glen donates his lifeblood in the hope of saving another human being.
The numbers speak for themselves. Many Lives 'Will' be saved.
So please, come to Washington on September 6th and together, let's make a real difference in the world. For information about how to get to the CVC, please see: https://www.visitthecapitol.gov/plan-visit/us-capitol-map
See the website below for further information and details of how to sign up online!'
About DKMS
DKMS is an international nonprofit organization dedicated to eradicating blood cancers like Leukemia and other blood-related illnesses inspiring both men and women around the world to register as bone marrow and blood stem cell donors. DKMS is providing patients with a second chance at life, working closely with families from diagnosis to transplant and beyond. The donor journey begins with a swab of the cheek that takes less than 60 seconds and can be the action that leads to a lifesaving transplant. DKMS, originally founded in Germany in 1991 by Dr. Peter Harf, has organizations in Poland, Spain, the United Kingdom and the United States. The organization has registered more than 5 million people.
To join the fight against blood cancer or for more information on either organization, please visit www.lovehopestrength.org or www.dkms.org
Someone is diagnosed with blood cancer in the USA every 3 minutes
Every 10 minutes blood cancer takes a life somewhere in the world.