Apr 15, 2016 – Denver, CO – Love Hope Strength Foundation, the world's leading rock and roll cancer charity, is proud to announce we will tour 5 nights with the amazing band, Holy Holy!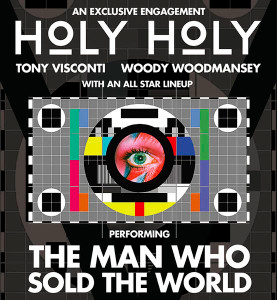 Holy Holy is a supergroup playing the songs of David Bowie from 1969 to 1973. Starring Woody Woodmansey, legendary Spider from Mars & David Bowie's drummer from 1970-1973 and Tony Visconti, Bowie's longtime producer, friend and bass player on The Man Who Sold The World, they're joined by the likes of Glenn Gregory, James Stevenson, Paul Cuddeford, Berenice Scott and Terry Edwards, Jessica Morgan, and some very special guests.
"Love Hope Strength is honored to have Holy Holy's support as they embark on this amazing tour, where they'll pay tribute to the legendary David Bowie with an all-star lineup of performers." said Jason Chavez, LHS Director of Artist and Venue Relations. "Special thanks to James Stevenson, who helped forge this partnership via his connection to our co-founder, Mike Peters."
Love Hope Strength will be working the Holy Holy shows at:
4/17 – Denver / Summit Music Hall
4/19 – Dallas / Gas Monkey Live
4/24 – San Diego / The Music Box
4/28 – Anaheim / House of Blues
4/29 – San Francisco / The Fillmore
You can follow Holy Holy here on Facebook as well as at their official site – http://www.holyholy.co.uk.
Visit lovehopestrength.org to learn more about volunteering for LHS and see where all of our donor drives will be – thanks!