www.walesonline.co.uk – 6/24/13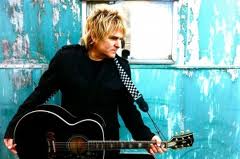 When Mike Peters was diagnosed with leukemia in 2005, little did he know the extraordinary journey he would embark on.
Now the North Wales rocker's fight for survival and the launch of his own rock 'n' roll cancer charity the Love Hope Strength Foundation are to be documented on the big screen.
Peters, who was first diagnosed with cancer in 1995, when he successfully beat the disease into remission, saw the leukaemia return just as his career was on a upwards surge.
The 54-year-old musician, who has scored 15 UK top 40 hits and sold more than five million records worldwide with his band The Alarm, was about to sign a deal with EMI Records and had recently celebrated the birth of his first son Dylan. But with his rock, wife Jules at his side, he heard the news that he had feared – the cancer had returned.
In 2007, two years after he first began regular treatment for chronic lymphocytic leukaemia at the North Wales Cancer Centre at Ysbyty Glan Clwyd he launched the Love Hope Strength Foundation with fellow cancer-survivor James Chippendale – who is from Dallas in the US and was introduced to Peters through a mutual friend.
Six years after its launch the charity now has a firm foothold on both sides of the Atlantic thanks to regular musical expeditions to some of the highest peaks in the world including Mounts Everest, Kilimanjaro and Fuji.
However, it all started with the event that has now become a regular fixture in the Love Hope Strength calendar – Snowdon Rocks; an annual climb and concert at the summit of the highest Welsh mountain.
Since its inception each charity trek has been documented every step of the way by a film crew who will now distil the hundreds of hours of footage into a movie that it's hoped will not only hit home on the big screen but also with a global audience.
"Hopefully it will be a movie that saves lives," said Peters, who has two children, Dylan and Evan. "It will be a movie that we will be able to take out not just to play in cinemas but at donor drives and film festivals where I'll be able to back up the film with personal appearances. Hopefully it really will be a film that actively goes out there and saves somebody's life."
It's Peters' second movie project given the recent success of Vinyl – a film based on how the singer hoaxed the music industry exposing the inherent ageism that exists, while scoring a top 40 hit with 45RPM, a song performed by a young group posing as Peters and The Alarm.
However, while that big screen production starred Quadrophenia and EastEnders actor Phil Daniels, the stars of this next film venture will be the many musicians and fundraisers who have joined Peters and Chippendale on their charity treks.
In the UK, Love Hope Strength has been supported by such rock 'n' roll stars as Squeeze, The Cult, The Levellers, Ocean Colour Scene and Mumford & Sons – as well as Big Country, the legendary Scottish rockers who the Welshman fronts in addition to his duties with The Alarm.
"The Love Hope Strength story is a fascinating story of all the climbs we've undertaken," said Peters, who recently at the Houses Of Parliament to launch Get On The List – a new campaign to recruit potential donors, which highlights the fact that half the people in Britain who need a life-saving stem cell donor don't actually find a suitable match.
"We've filmed everything from that very first climb on Mount Snowdon.
"The symbolism of climbing a mountain when you have cancer is a very powerful iconic journey for people to make to represent their climb back from cancer.
"Through making the film and doing the donor drives the movie has a very positive message at its heart."
"We have ambitions to grow the charity and we feel our work is really effective. We've raised money from our climbs to support cancer centres in Nepal and in Tanzania, while we're continuing to support the infrastructure with our funds and by doing stem cell donor drives we're spelling out how easy it is now to save a life through simple blood donation.
"And as part of this we're interacting and growing our relationships with musicians from all over the world.
"Take a band like Mumford & Sons for instance, we found four donor matches at their concerts in America over the last year. Hopefully we're at a point where we are going to be able to bring the people together who are involved in those micro stories.
"We're waiting for the day when we can bring somebody who has had a transplant with the Mumford & Sons fan who was the blood donor and bring them together with the band to say 'when you played that particular concert you saved this person's life'.
"That's what we're looking forward to in the next stage of the charity's development – it will make our message even more powerful."