Why not send a Gift of Love Hope Strength to a loved one to show you care for them and for others this Christmas? You'll know you're helping people that really need it, and the person that receives it will get a great e-card explaining the significance of this special gift.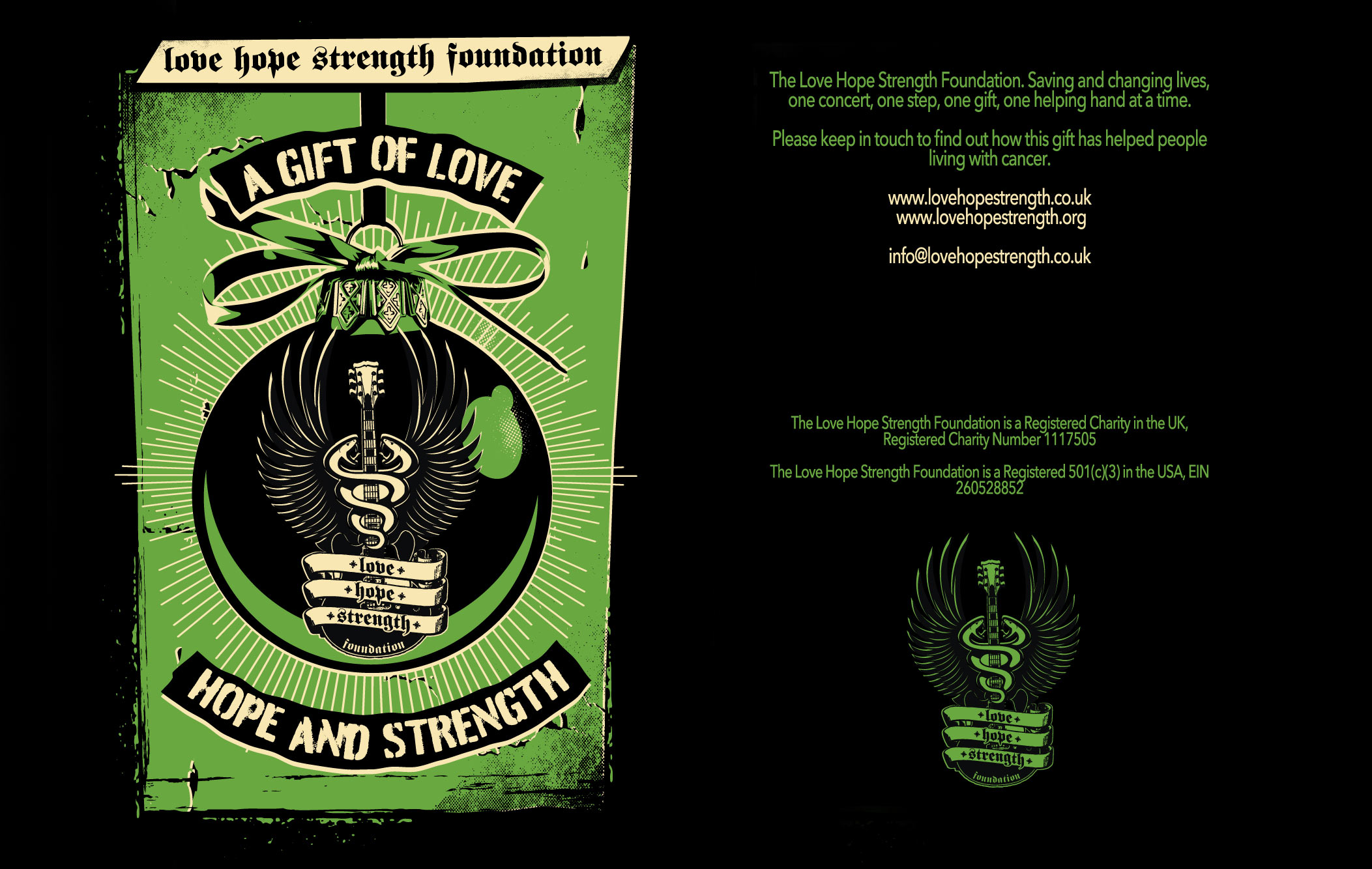 100% of your £10 or $10 Love Hope Strength Christmas Gift will fund: cancer support schemes in the UK, USA and disadvantaged communities abroad now, and cancer prevention schemes designed to help reduce the pressure on healthcare services in the future. Thanks to the generous support of the Beauchamp Family Foundation, your gift will be matched dollar for dollar, pound for pound. This means that for every £10 or $10 Christmas gift, Love Hope Strength will have £20 or $20 to help change and save lives.
The Love Hope Strength Foundation works in partnership with leading cancer support organisations. This year, Christmas Love Hope Strength gifts will help:
People with blood cancer searching for a blood stem cell match to give them a second chance of life. LHS supports the registration of potentially lifesaving blood stem cell donors through the blood cancer non-profit, DKMS.
Patients receiving care and treatment in hospitals in the UK and the USA. The Love Hope Strength grant programme gives funding for new equipment and extra patient services in cancer centres.
Children with cancer in Tanzania. LHS supports the Muhimbili University Hospital Children's Cancer Unit in Dar Es Salaam.
Aspiring oncology and haematology specialists in underprivileged areas that are determined to give their patients the very best care and treatment possible. Through the Union for International Cancer Control (UICC), Love Hope Strength provides hospitals and cancer care agencies with grants to become networked with the leading cancer care research and development organisations, given them access to training, workshops and peer support.
Communities learn more about how to reduce the risk of cancer. Love Hope Strength supports specific World Cancer Research Fund cancer prevention projects.
What do you have to do?
Complete the form below.
Then you must donate. If you're in the UK, please donate here: https://www.justgiving.com/lhsf. If you're in the USA, please donate here: https://www.justgiving.com/lovehopestrengthinc.
Then your Christmas Gift e-card will be issued on 23rd December to ensure that everyone receives their special gift before Christmas (note that your email address will be copied onto the email that is sent out on your behalf to the gift recipient).
Important information to note:
1. When completing the below, please note that your gift recipient's name and your name will be included on the e-card so make sure you include these names as you'd like them to be seen on the e-card
2. If you'd like to order a number of e-cards, please complete the below information submission multiple times. You can then give the donation for all of your e-cards in one payment. If you're in the UK, please donate here: www.justgiving.com/lhsf. If you're in the USA, please donate here: www.justgiving.com/lovehopestrengthinc.